Figures

Figure 1. Electrocardiogram on presentation to the emergency department with seizure-like activity, headache, nausea, vomiting, diarrhea, and severe fatigue.

Figure 2. Electrocardiogram following cardiopulmonary arrest and resusitation.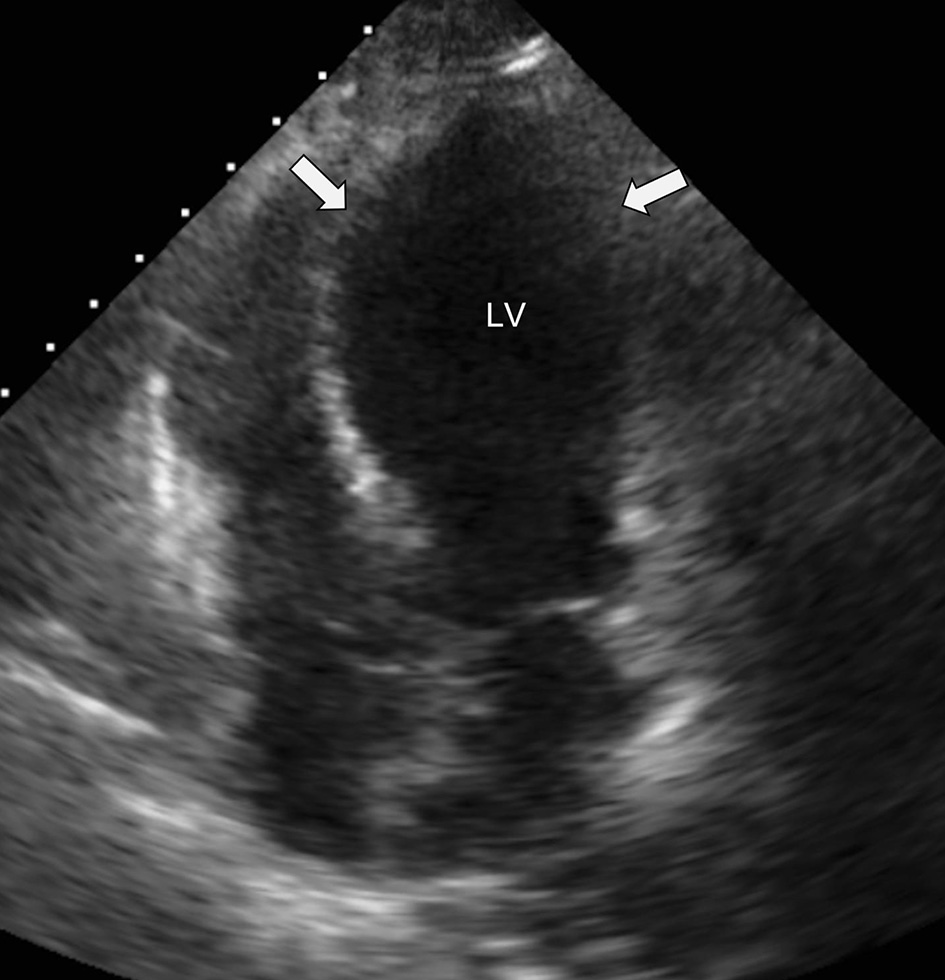 Figure 3. Apical five-chamber view with apical ballooning of the LV (white arrows) seen with Takotsubo cardiomyopathy. LV: left ventricle.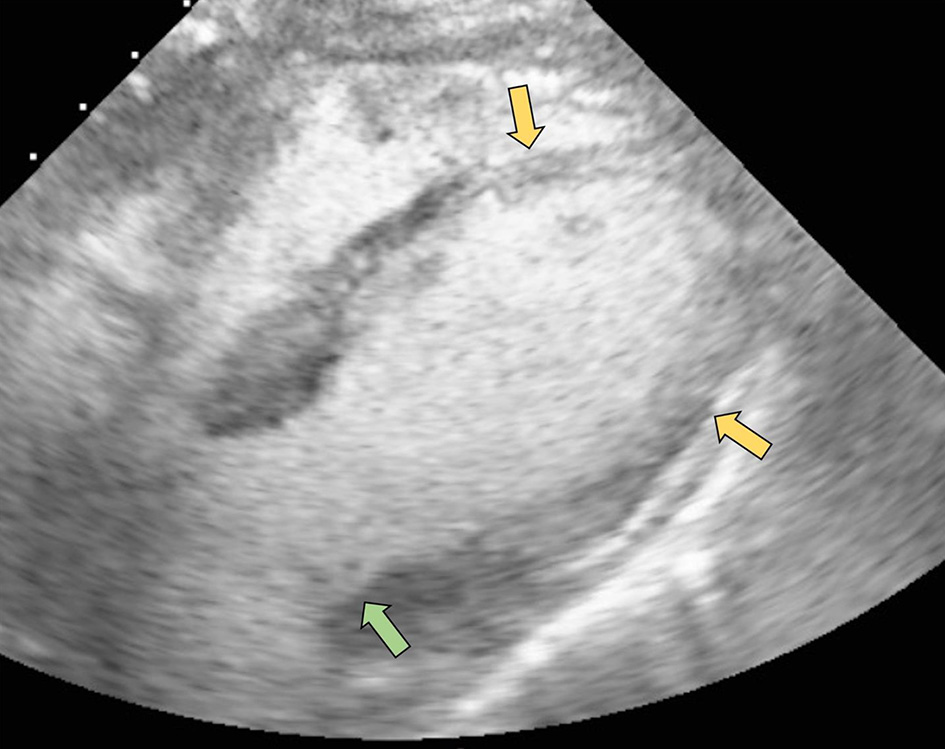 Figure 4. Subcostal view with contrast ultrasound enhancing agent demonstrating hypokinesis of the anterolateral, anteroseptal, and apical segments (yellow arrows) as well as basal segment hyperkinesis (green arrow).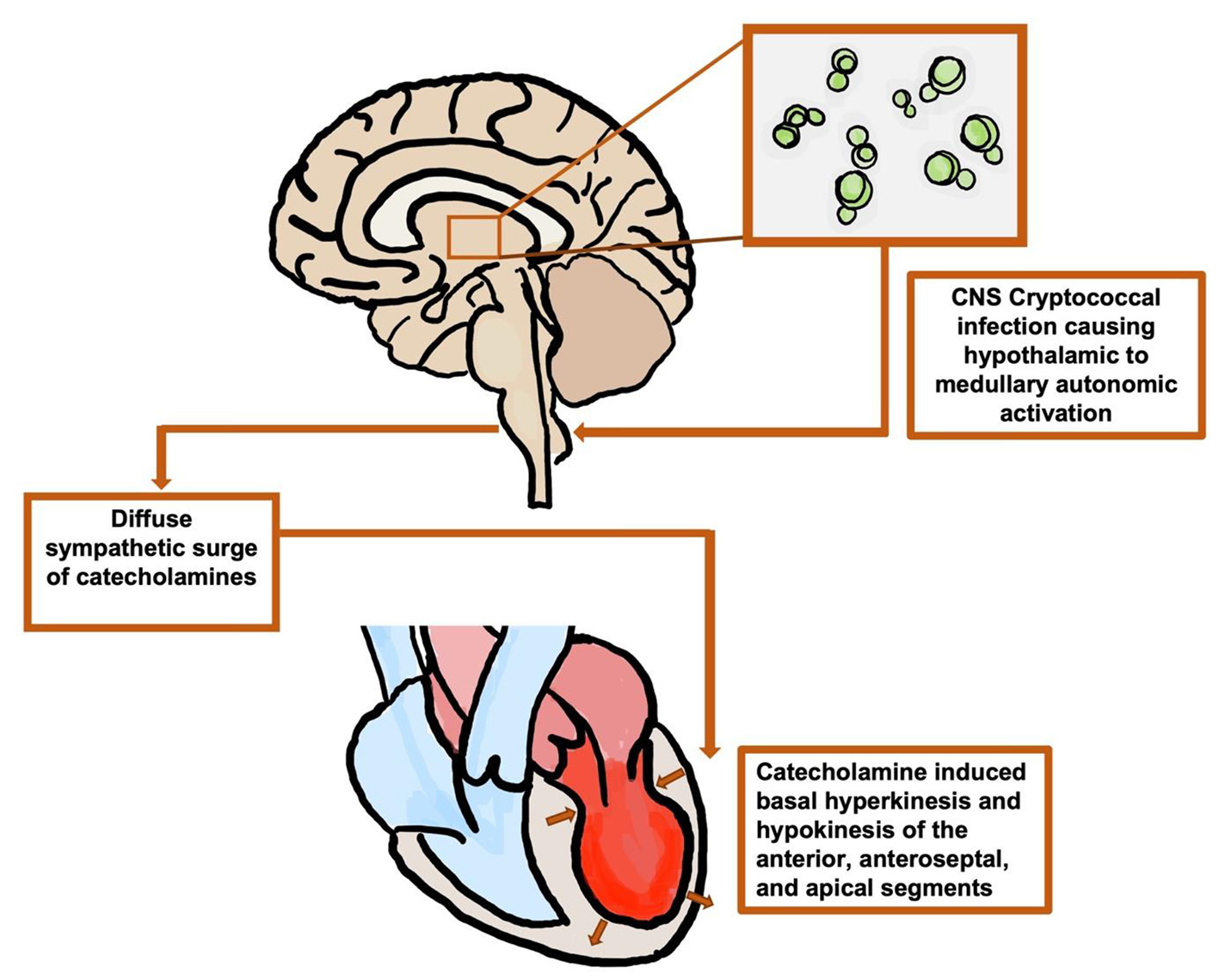 Figure 5. Illustration of the hypothesized brain-heart axis: cryptococcal meningoencephalitis leading to autonomic activation and a diffuse surge of catecholamines, negatively affecting the left ventricle. CNS: central nervous system.
Table
Table 1. Patient's Lab Work on Admission


| Lab | Value | Reference range |
| --- | --- | --- |
| Hemoglobin | 11.4 g/dL | 11.1 - 15.9 |
| Hematocrit | 32.7% | 34 - 46.6 |
| White blood cell | 20.8 × 103/µL | 3.4 - 10.8 |
| Platelets | 141 × 103/µL | 150 - 450 |
| Sodium | 128 mEq/L | 134 - 144 |
| Potassium | 2.5 mEq/L | 3.5 - 5.3 |
| Chloride | 88 mEq/L | 98 - 109 |
| Creatinine | 0.64 mg/dL | 0.57 - 1.00 |
| Blood urea nitrogen | 12 mg/dL | 7 - 25 |
| Calcium | 8.9 mg/dL | 8.7 - 10.3 |
| Glucose | 200 mg/dL | 70 - 99 |
| Lactic acid | 2.2 mmol/L | 0.5 - 2.2 |