Figures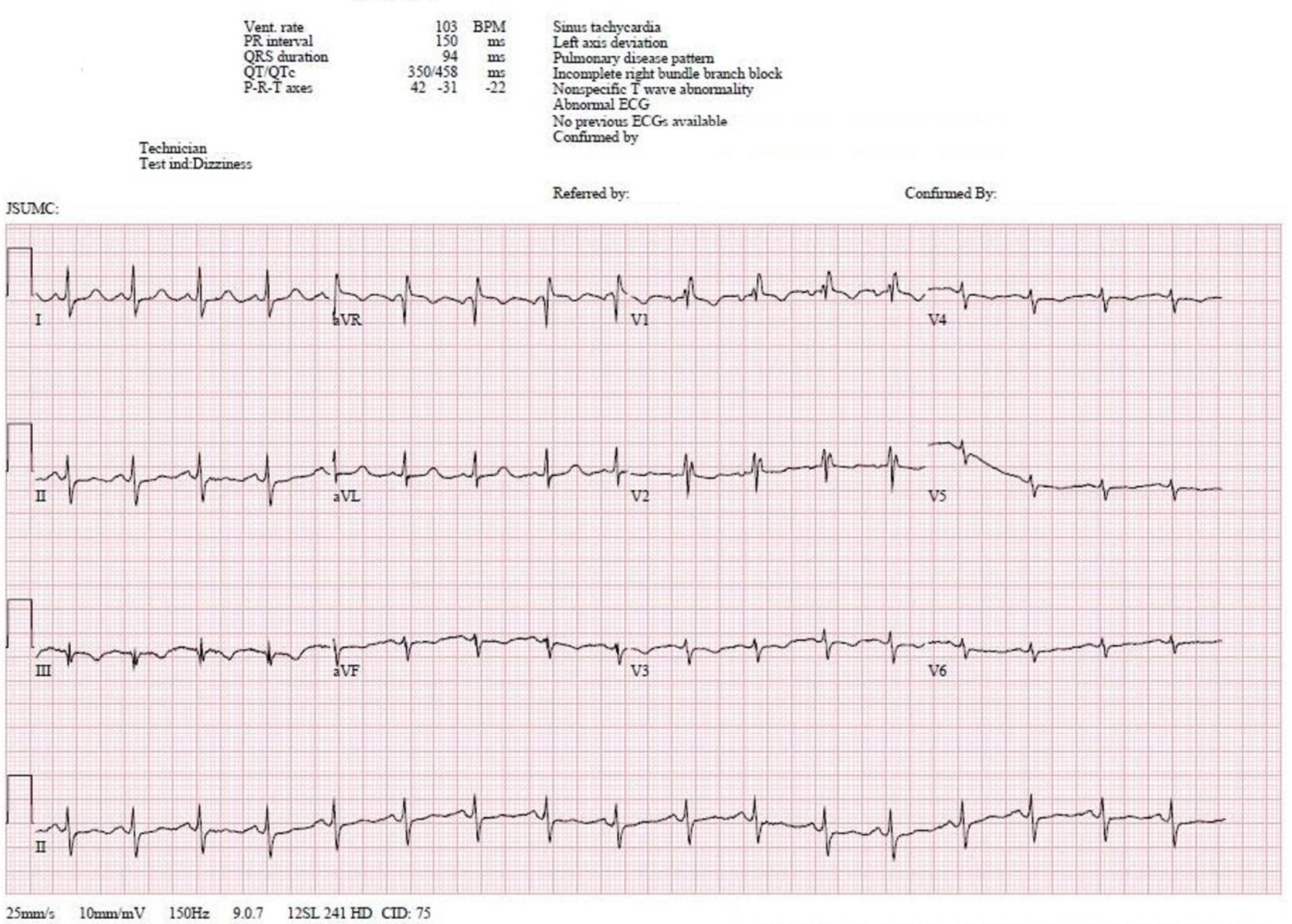 Figure 1. The 12-lead EKG obtained on initial evaluation is significant for sinus tachycardia with left axis deviation. An incomplete right bundle branch is present given by the RSR' pattern in leads V1-V2 in the setting of a QRS of 94 ms. The EKG is also significant for an S1-Q3-T3 pattern. EKG: electrocardiogram.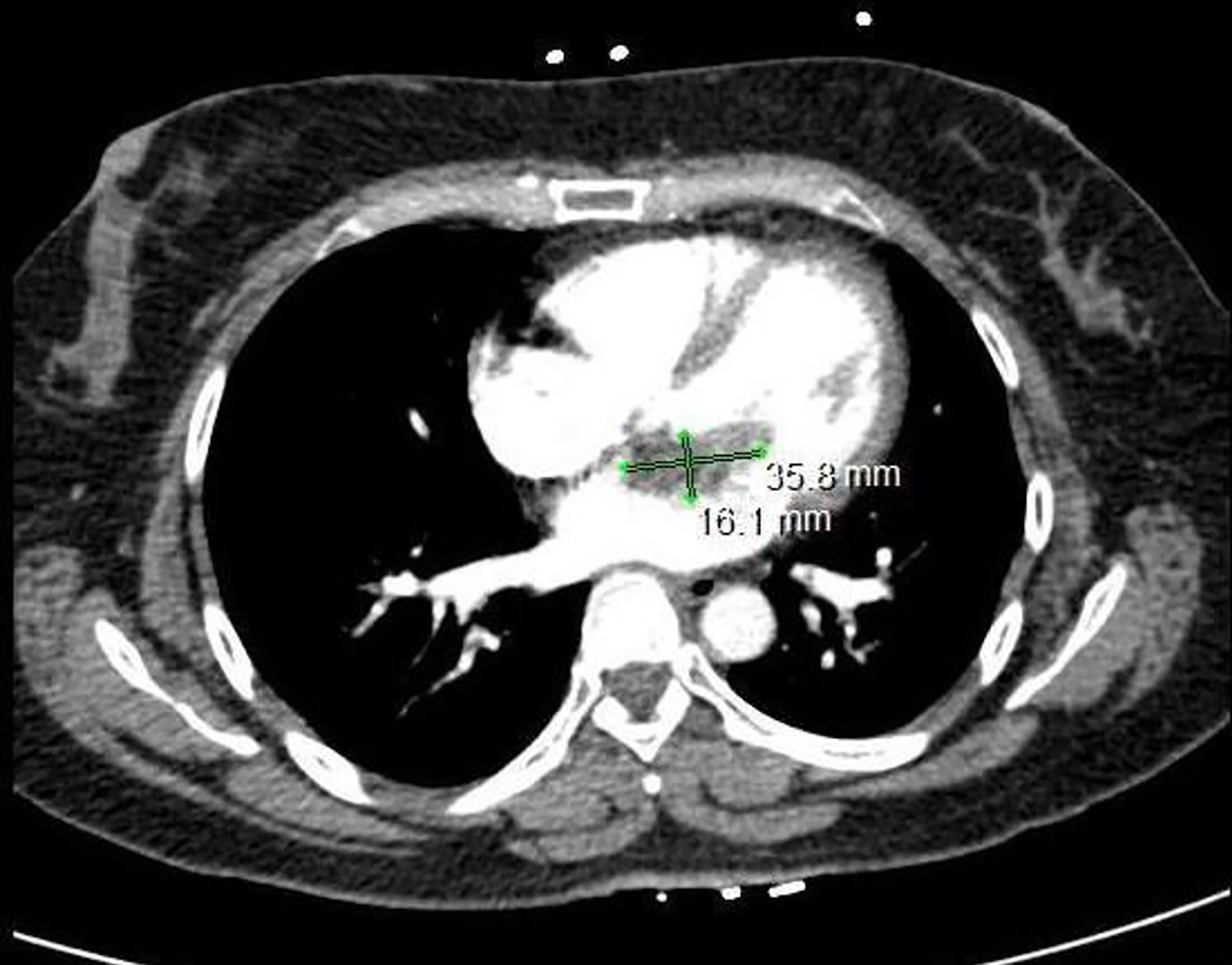 Figure 2. Computed tomography scan of the chest is significant for a filling defect within the left atrium that measures approximately 3.6 × 1.6 cm.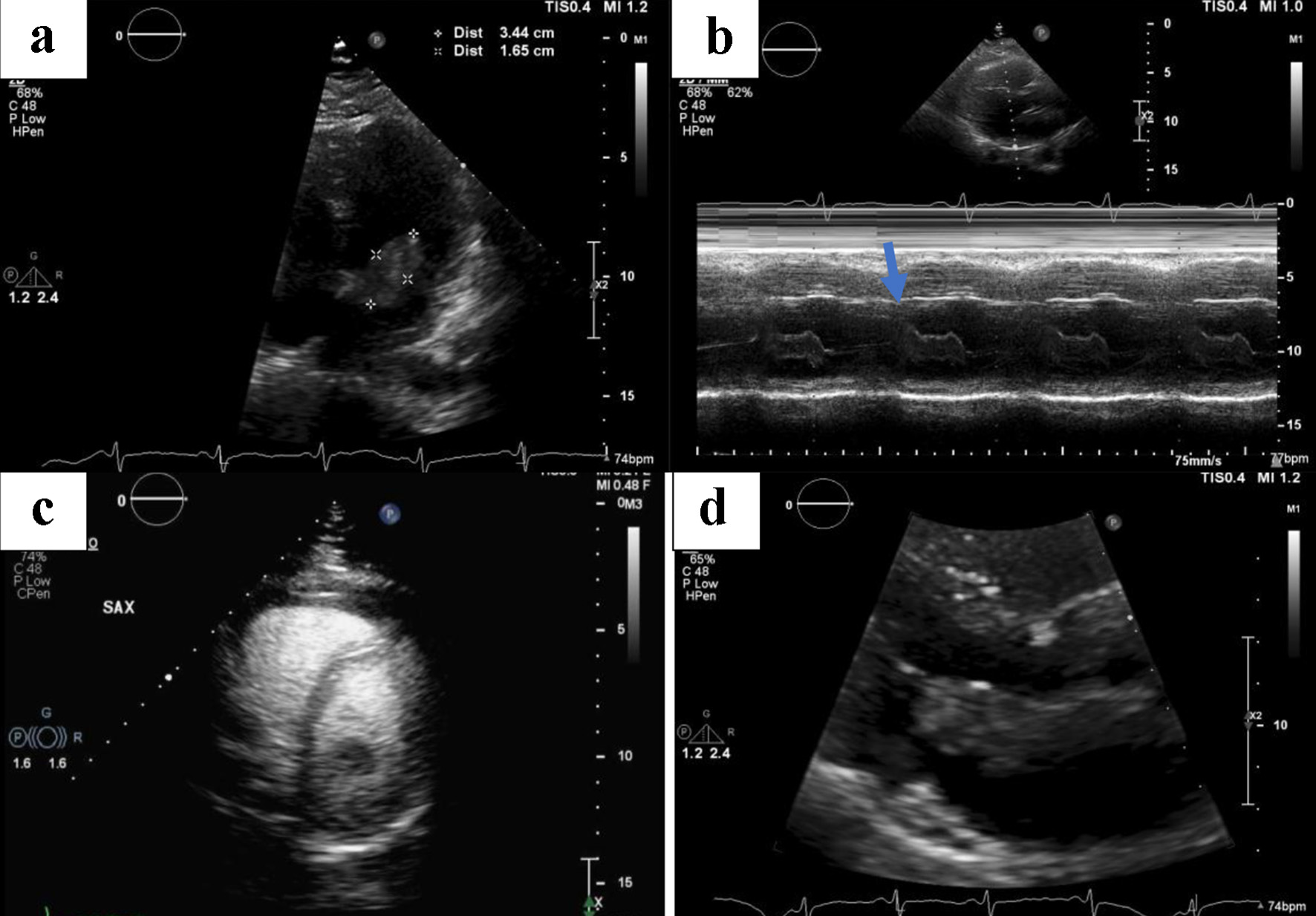 Figure 3. Serial images obtained by a transthoracic echocardiogram. (a) The size of the affixed mass measuring 1.6 × 3.4 cm. (b) The mass is affixed to the mitral valve (blue arrow) as seen on M-mode. (c) No other filling defects in the left ventricle aside from the previously described mass. (d) The extent of outflow tract obstruction.
Table
Table 1. Laboratory Workup


| Laboratory test | Result value | Reference range |
| --- | --- | --- |
| White blood cells | 7.2 | 4.5 - 11.0 × 103/µL |
| Hemoglobin | 15.1 | 12.0 - 16.0 g/dL |
| Hematocrit | 44 | 35.0-48.0% |
| Mean corpuscular volume | 87.5 | 80.0 - 100.0 fL |
| Platelet count | 320 | 140 - 450 × 103/µL |
| Sodium | 140 | 136 - 145 mmol/L |
| Potassium | 4 | 3.5 - 5.2 mmol/L |
| Chloride | 106 | 96 - 110 mmol/L |
| Glucose | 123 (H) | 70 - 99 mg/dL |
| Blood urea nitrogen | 6 | 5 - 25 mg/dL |
| Albumin | 4.1 | 3.5 - 5.0 g/dL |
| Total bilirubin | 0.6 | 0.2 - 1.3 mg/dL |
| Calcium | 9.6 | 8.5 - 10.5 mg/dL |
| Creatinine | 0.57 | 0.44 - 1.00 mg/dL |
| Alkaline phosphatase | 110 | 38 - 126 U/L |
| Total protein | 6.7 | 6.0 - 8.0 g/dL |
| Aspartate aminotransferase | 25 | 10 - 42 U/L |
| Anion gap ratio | 1.6 | > 1.0 |
| Carbon dioxide | 26 | 24 - 31 mmol/L |
| Anion gap | 8 | 5 - 13 mmol/L |
| Alanine aminotransferase | 20 | 10 - 60 U/L |
| Glomerular filtration rate | > 60 | > 60 mL/min/1.73 m2 |
| Troponin I | 0.04 (H) | < 0.04 ng/mL |