Figures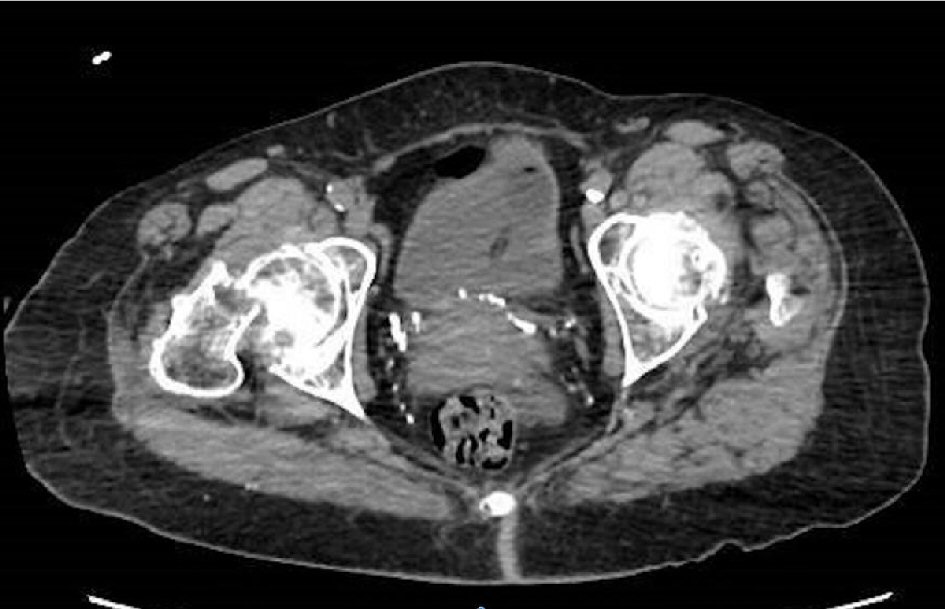 Figure 1. Imaging CT hip: right femoral neck fracture with nondisplaced fracture of the left sacral ala.

Figure 2. Breast cancer cells in bone marrow. (a) Presence of cells with breast origin, high power field. (b) Presence of plasma cells and breast cells, medium power field. (c) GATA 3 staining as marker of breast cancer.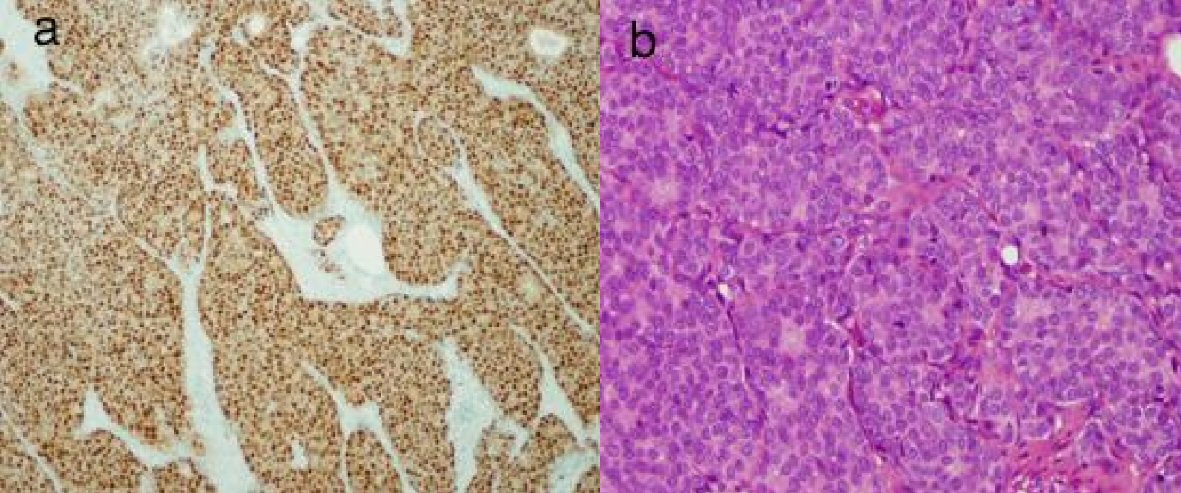 Figure 3. Sections of femoral head with metastatic breast cancer. (a) Strongly positive for estrogen receptor. (b) Strongly positive for progesterone receptor.

Figure 4. Morphology evaluation of bone marrow. (a) Hyper-cellular bone marrow. (b) Plasma cells intermixed with few small lymphocytes. (c) CD138 positive.
Tables
Table 1. Laboratory Results on Admission

CBC: complete blood count; MCV: mean corpuscular volume; RDW: red blood cell distribution; AKP: alkaline phosphatase; ALT: alanine amino transferase; AST: aspartate aminotransferase; ALB: albumin; PT: prothrombin time; APTT: activated partial thromboplastin time; INR: international normalized ratio; LFT: liver function test; BMP: basic metabolic panel; CEA: carcinoembryonic antigen; L: low; H: high.
CBC
  White blood cell count
6.3
  Neutrophils
66
  Lymphocytes
21
  Monocytes
12 (H)
  Red blood cell count
3.09 (L)
  Hemoglobin
8.1 (L)
  Hematocrit
25.6 (L)
  MCV
83.0
  RDW
19.3 (H)
  Platelets
187
LFT and coagulation factors
  AKP
68
  ALT
10
  AST
53 (H)
  Bilirubin
0.5
  ALB
2.5 (L)
  Protein
9.8 (H)
  Globulin
7.3 (H)
  PT
15.5 (H)
  APTT
28.8
  INR
1.23 (H)
BMP
  Glucose
100 (H)
  BUN
20
  Creatinine
0.65
  Sodium
130 (L)
  Chloride
100
  Potassium
4.4
  Calcium
9.3
  CO2
22
Tumor marker
  CEA
< 1
Table 2. More Diagnostic Data Suggestive for Plasma Cell Dyscrasia

SPEP: serum protein electrophoresis; IgA: immunoglobulin A; IgG: immunoglobulin G; IgM: immunoglobulin M; Alpha 1: alpha-1 globulin; Alpha 2: alpha-2 globulin; Beta: beta globulin; Gamma: gamma globulin.
SPEP
  Total protein
10.3 (H)
  Albumin
3.2
  Alpha 1
0.5 (H)
  Alpha 2
0.9
  Beta
0.9
  Gamma
4.7
B2 microglobulin
3.5
Free light chain
  Kappa
698.0 (H)
  Lambda
0.29 (L)
  K/L ratio
2,406.90
Immunofixation
  IgA
< 19
  IgG
5,300 (H)
  IgM
< 8